First Impressions | Brosino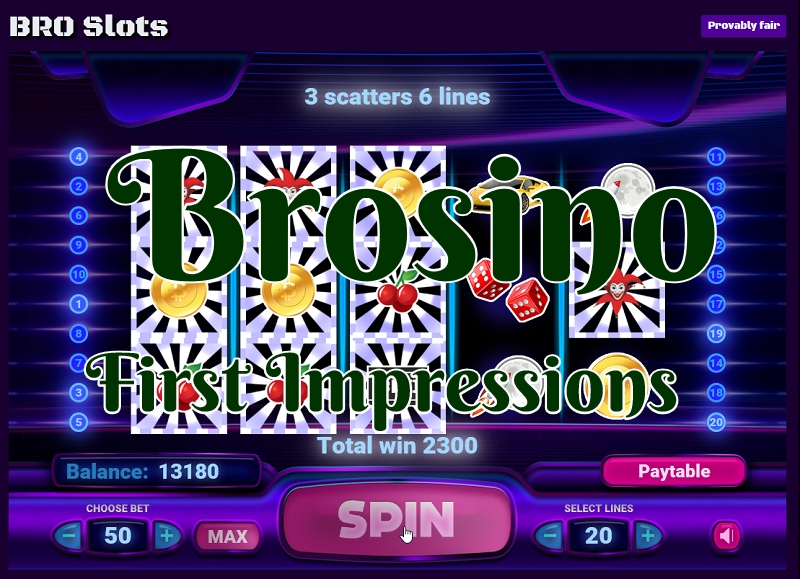 Brosino is a play money online casino with four different provably fair games to play— slots, blackjack, video poker and roulette.
What is really nice about Brosino is it's only a play with fake money aka play money site with the option to buy more credits if you run out. There are no deceptive practices such as being able to exchange it for any kind of reward. In fact, they have a rather strict policy of just no refunds which sets a very strong line in the sand of where they want to stand on. They are not trying to get around any laws or be shady it's just a place to have some fun. Yes, you can run out of fake money but they also offer ways to acquire more of it.
Credits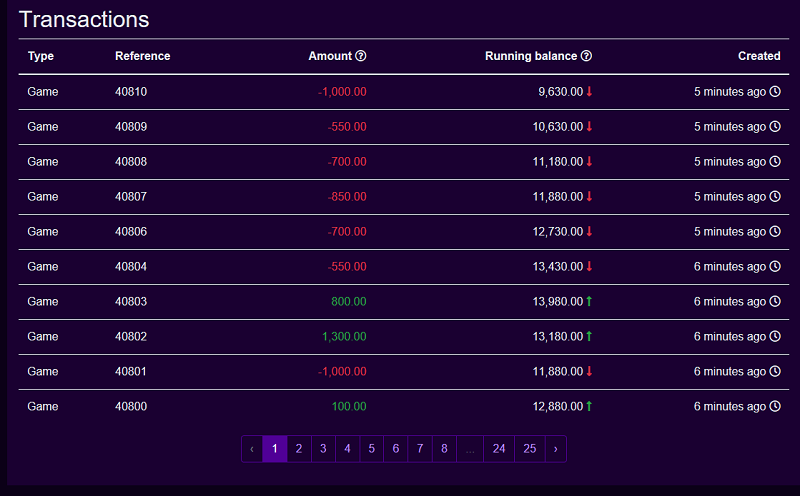 You start off with 10,000 play credits and one simple way to gain an extra 5k to play with is using my referral link to sign up. In return, I get some more play money to keep having fun and that is all. If you just play at minimal sized bet and lines at saying the slot game that going last you a very long time.
Brosino is still in early access with only them making an announcement post about it the other day so that should be kept in mind as not everything is implemented or tested yet. Such as all the ways they are going allow you to acquire more play money to keep the game free and enjoyable.
They are going to have a very classic log in daily rewards system that tends to follow this genre of casino gameplay. Which is really the only kind of casino games I tend to play I have never been a big fan of casino gambling with real money. It also looks like they will be rolling out an achievement and leader board reward system as well at some point to acquire more of the fake stuff. From there it looks like they will have random events and other ways of in the future.

As a last resort you can buy more play money to have at cost of $1 worth of cryptocurrency such as Steem, SBD, litecoin and more for 10,000 credits.
Games
There is at least for now have four playable games. They are very classics and all branded with the Bro. In fact, they are quite heavy into this bro theme over there. While they say you don't have to be a bro I think I'll start working on my bro handshake just in case.
Bro Slots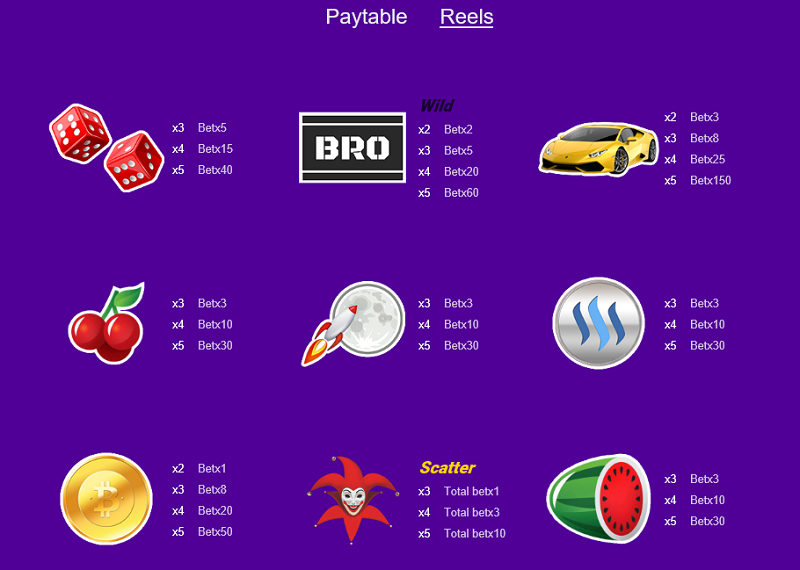 I'm a slots kind of person myself and so I see myself spending the most time here. They were quite nice to present you with a very easy to read and understand the pay table. The theme for this one is very heavy into the cryptocurrency world from Steem, Lambo, and moon symbols among others.
You can have a min bet of 5 and a max of 50. With your line choices ranging from 1 to 20. So a max sized bet would be 1k.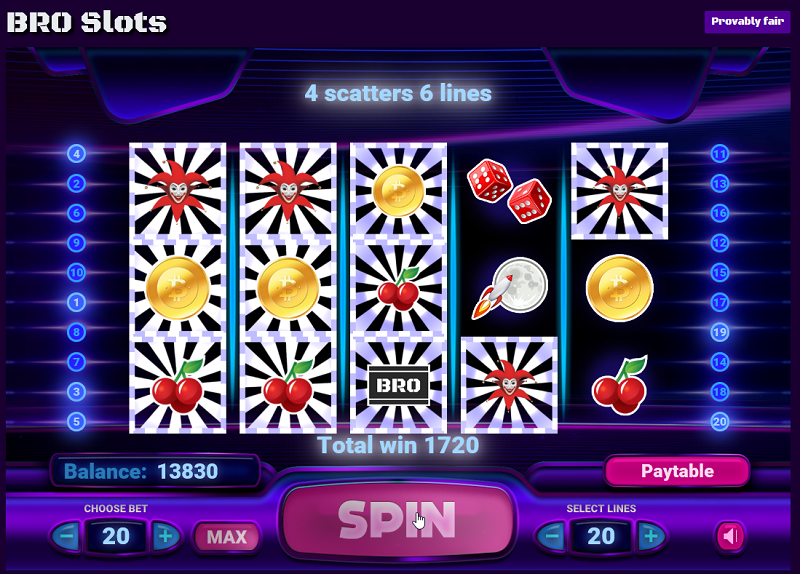 Naturally, I had to give it some big spins for that cover screenshot. Betting far beyond what your bankroll can support is never a good idea it did not take long for my play money to dwindle down to almost half. Lady luck was not with me on this one
Brojack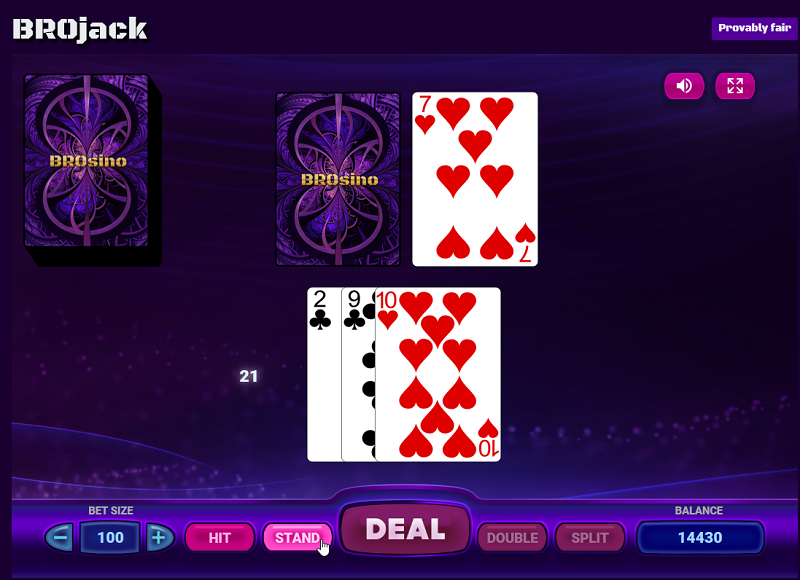 This is your very classic blackjack and the deck is shuffled every time from the looks of it. So I won't be going on a bender of card counting like a youngling. It's also nice knowing I won't be tossed out of this casino or banned from Miami to the Mississippi River. O' Enjar Counts is here to stay and play without the shoe or boot getting him this time.
For those who don't know how blackjack is played, it's quite simple. Your goal is to get as close to 21 without going over and busting and you are playing against the dealer. The dealer in this case the computer has to keep drawing cards till it busts, gets 21 or it's over a certain count.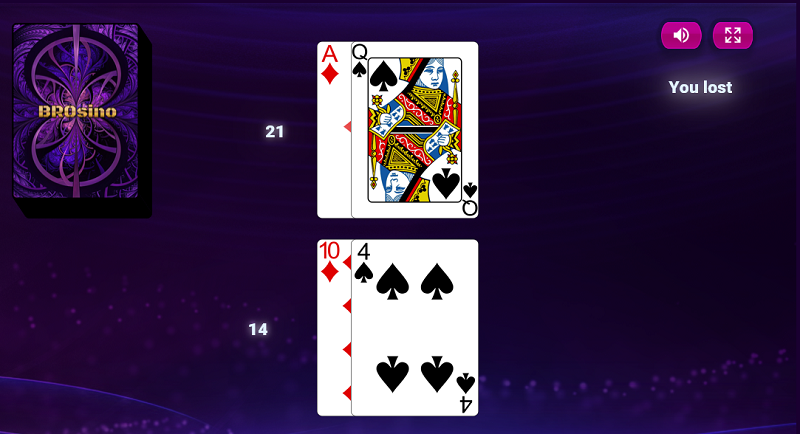 Aces card are treated as 11 or 1 whichever does not make you bust if possible. Your face cards like king, queen or jack are worth ten. While the remaining cards are worth the value is shown on the card.
With the basics in mind, you then just hit deal. From there you can stand if you are fine with the cards you get or take another hit and hope not to go over. You could even split or double your bet if you so wish. There a little more to that but you will work it out.
Since you have to mass spam click to increase or decrease your bet trying to apply the Martingale Strategy (doubling your bet if you lose) is not advisable unless you like carpal tunnel! You are also going hit rather quickly the max bet. While I was too lazy to see by spamming click I'm going guess it's around 1k. This is also a very high risk for very little reward strategy that over portrayed in every casino movie out there.
It's a quite simple game and there are so many different ways people go about trying to beat it.
Bro Video Poker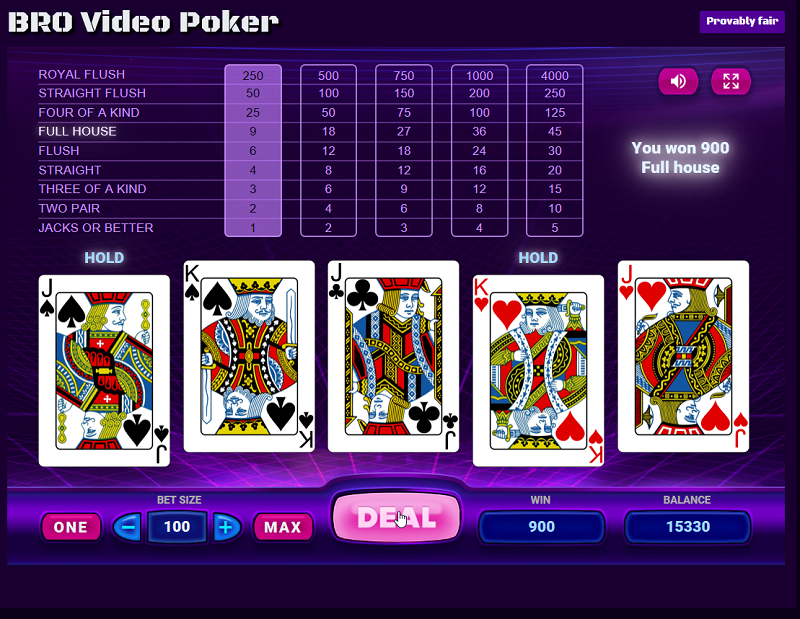 If you don't at least a basic understanding of poker you could lose a lot of play money here trying to learn which is at least done with play money. Such as understanding what a three of a kind or full house is. You are given a hand of five cards and you can choose what ones you want to hold. The remaining ones get replaced and it's the end of that game.
This one gives you a payout table where you need at a minimum a pair of jacks or better. You can also click on that table itself to increase the bet based on your bet size if you want up to it without so much clicking.

This game also gives you a nice close up of that amazing back on those cards. I could sit there for an hour admiring it. Not that I'm a card back snob or anything like that.
This presents the player with the opportunity of going for a high risk vs reward or trying to take the safer route. Often times you end up with a winning hand of saying a pair of jacks. Other times you might be two cards off from getting a straight and hope lady luck is on your side for a nice payout.
Broulette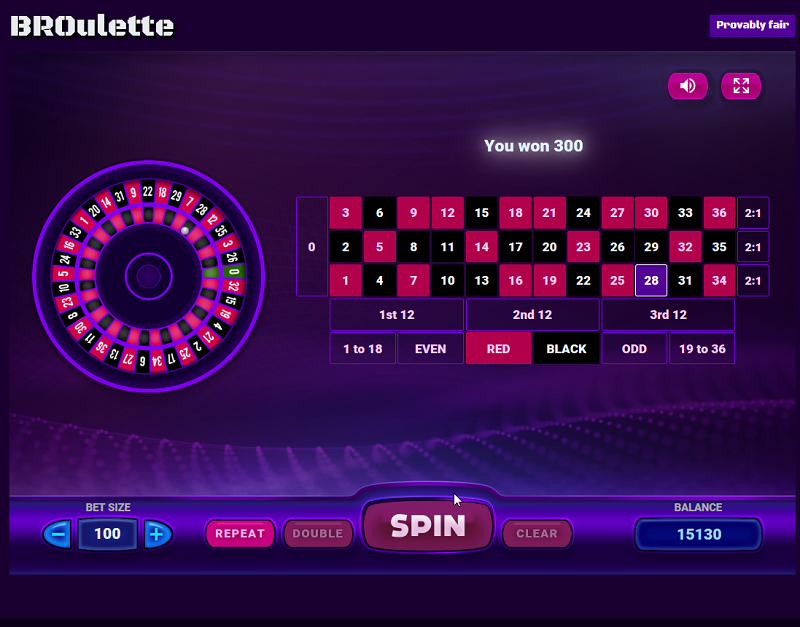 Roulette has to be my least favorite to play games. You place your bet based on how much risk you want to take. The wheel spins and your money just flows away as it does in real life! The only thing missing is some guy trying to hide a device in his shoe to rig it for some extra fun! Since it's probably fair after all and online I guess there will be no table bro bumping to win in your favor either.

As far as betting you can go with your classic 50/50 chance by placing your bet on red or black, even or odd. If you win double your money and if not well you should just give me half of it and let me take you out back for a quick swift kick in the nuts but that is ok. You can continue making your bad and high risking choices in life by betting on a single number for max return or in your case losing the farm. You also have my more preferred column bet which includes numbers in sets of twelve.
Final Thoughts

I had some fun till 2 am and thankfully I'm not down over 8k in real money. I would more than likely be wondering around Miami or Las Vegas right about now looking to make some other bad life decisions being down on my luck! Perhaps lady luck will be with me the next time I play.
It would be nice to add in a faster way to change up the betting and line bet numbers. You could not just hold down the mouse button and it would accelerate towards the number you wanted quickly. There was also no option to just type in the numbers you wanted at least from what I seen.
I'm looking forward to seeing this get out of beta and hopefully add in more slot machines and ways to earn free play money to keep going. If this game evolves far beyond this first impression after it's fully released I might consider doing a deeper review style write up or other content around it.
Information
Screenshots were taken and content was written by @Enjar about the site Brosino
You must be at least 21 years of age or older to play on this site. While it's only fake play money if you have a gambling problem consider seeking out some help when you are ready for a life change Gamblers Anonymous.
If you would like to help replace the play money I lost to create this post consider using my referral link when you sign up. https://brosgn.net?ref=77